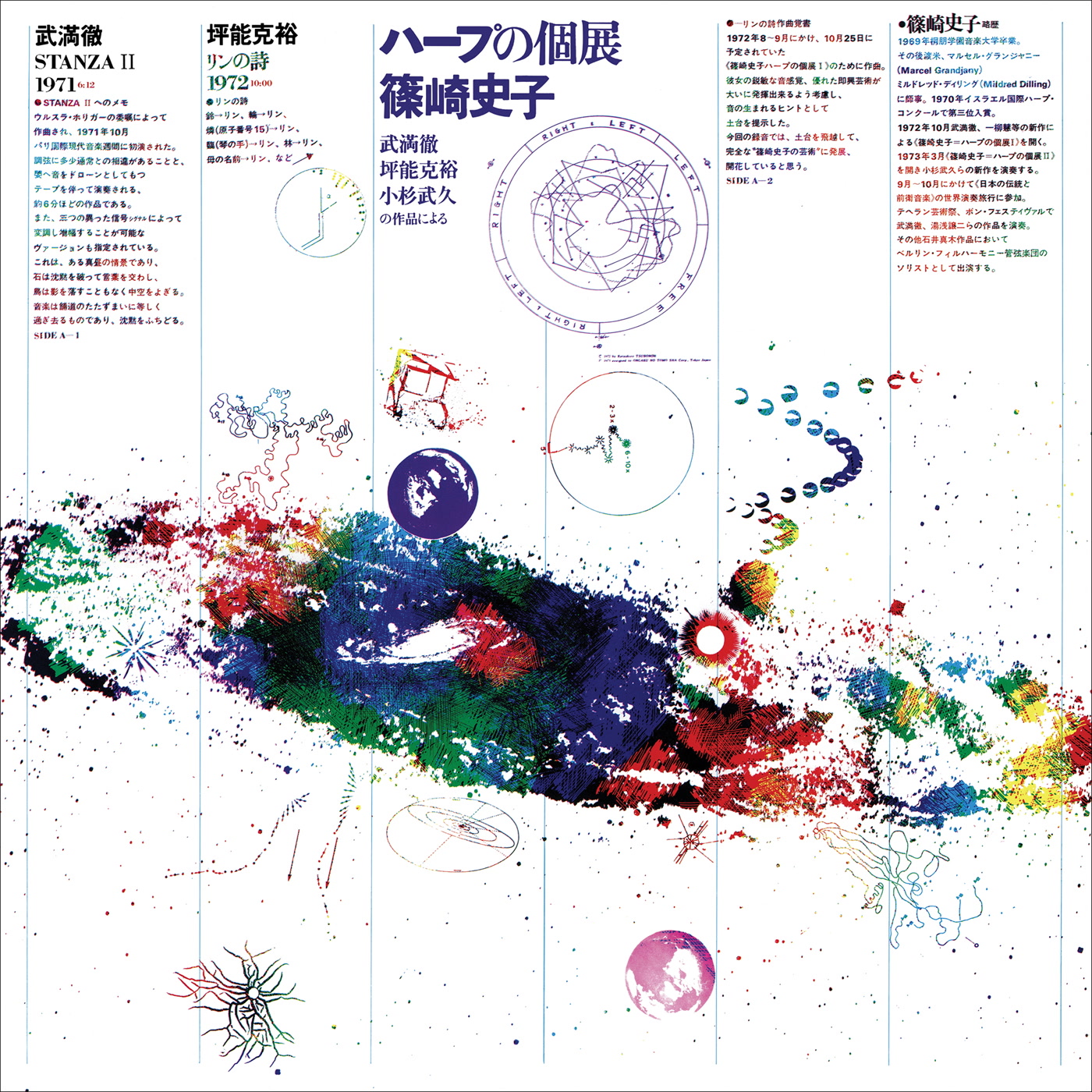 Japanese harpist Ayako Shinozaki was born in Japan in 1946 into a musical family. Her father was a renowned violonist and teacher and she started playing the violin under his wing before switching to harp. She first studied in Japan, then at Julliard in New York and, upon her return in Japan in the early 1970s, she launched her yearly "Harp No Koten" recital (the first or which took place in 1972) with the idea of pushing the boundaries of the instrument and delves into the more experimental side of the spectrum following the recent steps that had been made by Dorothy Ashby and Alice Coltrane to get the instrument out of the classical music ghetto.
The album 'Music Now for Harp' is the fruit of this first recital and is composed of three pieces that were played there. The first piece, "Stanza II" was composed by Toru Takemitsu, one of the most famous contemporary Japanese composers of the 20th century. "Stanza II" was written in 1971 for Swiss harpist Ursula Holliger and is a subtle piece featuring Shinozaki's harp intertwined with tapes of drones, birdcall and street sounds. It's typical of the music composed by Takemitsu at the time and in the Japanese notes, he refers to the music as "a midday scene, a stone shatters the silence, words are exchanged, a bird crosses the sky, casting no shadow."
The second piece of the album, "Poem of Lin" was written by the young Japanese composer Katsuhiro Tsubono (who was 25 years old at the time). The piece was composed for harp, bells and voice and is a eery yet percussive soundscape emphasizing Shinozaki's interplay with percussion and voice.
The final piece "Heterodyne" makes up the whole of side 2 at 25 min composed by legendary Japanese musician Takehisa Kosugi. It is an extraordinary piece of music featuring Shinozaki's harp and Kosugi violin dialoguing over Kosugi's added electronic effects. As noted by Alan Cummings in the liner notes, Kosugi "here combines low-frequency light and sound waves to create a slow oceanic swell." The piece is a deep, spiritual journey mixing the organic feel of the harp and violin with the futuristic touch brought by Kosugi's hypnotic, almost funky sound waves . The interaction is serene and full of ambient Eastern meditations and let the two musicians freely improvising and complementing each other. It is certainly the climax of a unique album that was only available in Japan until now, becoming very scare and which Wewantsounds it delighted to release outside of Japan for the first time