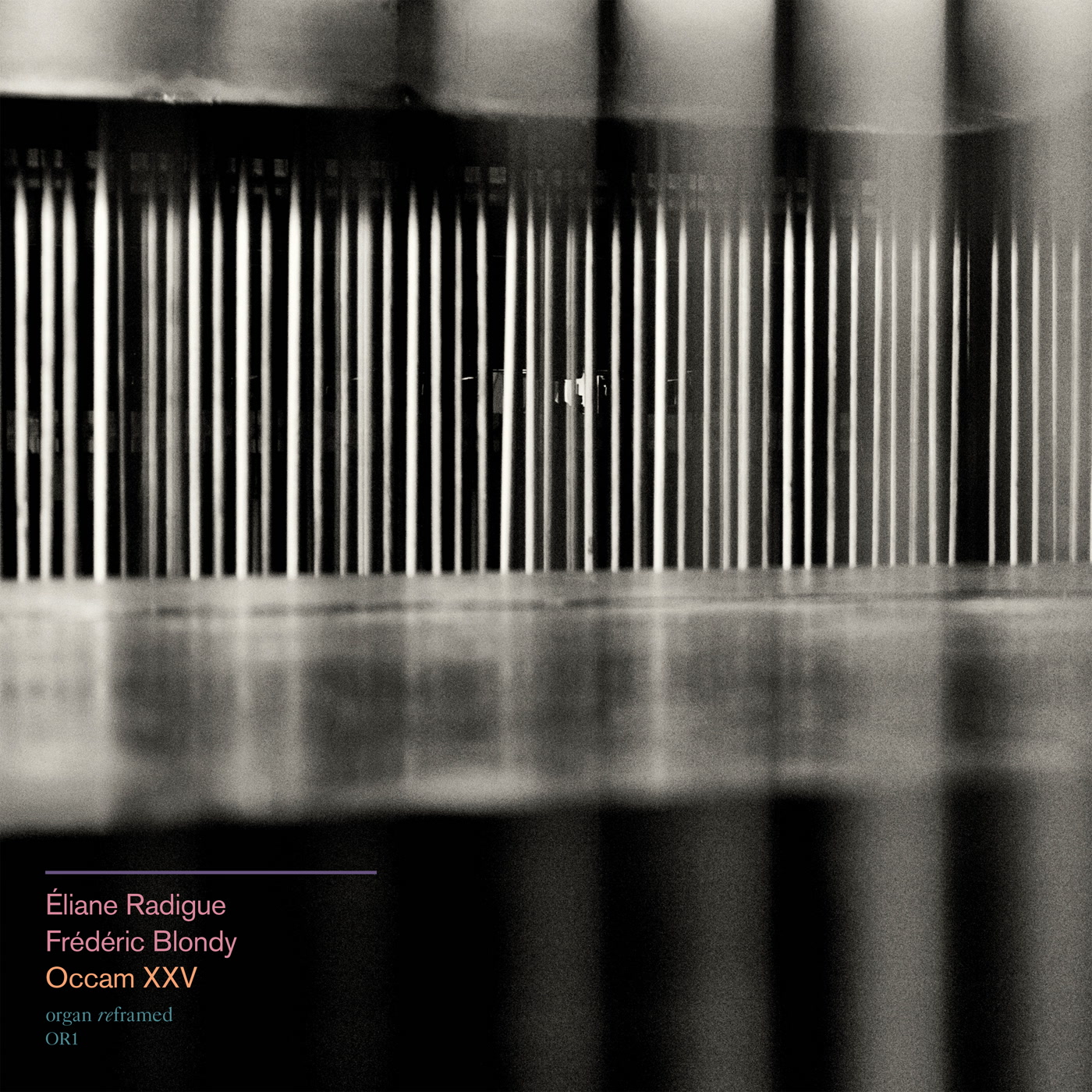 Composed by Éliane Radigue. Performed by Frédéric Blondy. Commissioned by Organ Reframed, curated by Claire M Singer. Recorded on 8 January 2020 by Daniel Halford at Union Chapel on the organ built by 'Father' Henry Willis, 1877.
Mastered by Denis Blackham at Skye Mastering.
Distributed by Kudos and Touch.
Cover organ photography: Daniela Sbrisny.
Designed by Philip Marshall, Berlin, June 2021.
This commission was generously supported by Arts Council England, the London Community Foundation/Cockayne, PRS Foundation and SACEM.
unionchapel.org.uk
@organreframed
In 2018 experimental festival Organ Reframed commissioned Éliane Radigue to write her first work for organ, 'Occam Ocean XXV'. Radigue worked closely with organist Frédéric Blondy at the Église Saint Merry in Paris before transferring the piece to Union Chapel for its premiere at Organ Reframed on 13 October 2018. The recording on this compact disc was made at a private session at Union Chapel on 8 January 2020.
'Occam XXV' inaugurates the very special record series of works exclusively commissioned by Organ Reframed, the organ-only, one of a kind experimental music festival, carefully curated by Scottish composer/performer and London's Union Chapel organ music director Claire M Singer.
Paris-born Éliane Radigue is one of the most innovative and influential living composers of all time. After working under Pierre Schaeffer and Pierre Henry in the late 1950's/early 60's she mainly worked with tape before developing a deep relationship with modular synthesis in the early 1970's. Over the next three decades she pushed her own conceptions of musicality forward developing a deep relationship with her ARP 2500. Through endless exploration and drawing on her personal journey as a practicing Buddhist she created an entirely new landscape of experimental sound. In the early 2000's she made an extraordinary shift into writing predominantly for acoustic instruments.
'Occam XXV' is the latest chapter of Radigue's broader series of works Occam Ocean which she has been composing in the last decade. Carefully selected by Radigue she has closely collaborated with various extremely experienced yet sensitive instrumentalists. For Occam XXV Radigue collaborated with pianist, organist, composer, improviser, artistic director of the Orchestra of New Musical Creation, Experimentation and Improvisation (ONCEIM) Frédéric Blondy, which is their second collaboration in the Occam Ocean series. 'Occam XXV' premiered in 2018, and was later recorded privately in 2020 at London's Organ Reframed headquarters Union Chapel.
"We live in a universe filled with waves. Not only between the Earth and the Sun but all the way down to the tiniest microwaves and inside it is the minuscule band that lies between the 60 Hz and the 12,000 to 15,000 Hz that our ears turn into sound. There are many wavelengths in the ocean too and we also come into contact with it physically, mentally and spiritually. That explains the title of this body of work which is called Occam Ocean.The main aim of this work is to focus on how the partials are dealt with. Whether they come in the form of micro beats, pulsations, harmonics, subharmonics – which are extremely rare but have a transcendent beauty – bass pulsations – the highly intangible aspect of sound. That's what makes it so rich.
When Luciano Pavarotti gave free rein to the full force of his voice the conductor stopped beating time and you could hear the richness in its entirety. Music in written form, or however it is relayed, ultimately remains abstract. It's the performer, the person playing it who brings it to life. So the person playing the instrument must come first. I've always thought of performers and their instruments as one. They form a dual personality. No two performers, playing the same instrument, have the same relationship with that instrument – the same intimate relationship. This is where the process of making the work personal begins. The purely personal task of deciding on the theme or image that we're going to work from.
Obviously, because this is Occam Ocean, the theme is always related to water. It could be a little stream, a fountain, the distant ocean, rivers. Out of the fifty or so musicians I've worked with no two themes have been the same. Each musician's theme is completely unique and completely personal. The music does the talking. This is one of those art forms that manages to express the many things that words aren't able to. Even at an early stage, all those ideas need to have been brought together."
– Éliane Radigue
Since its conception in 2016, Organ Reframed has commissioned artists including Low, Hildur Guðnadóttir, Philip Jeck, Phill Niblock, Mark Fell, Mira Calix, Darkstar, Kaitlyn Aurelia Smith, Sarah Davachi, hailing from London's Union Chapel, ending up also in Amsterdam and Moscow. Organ Reframed will be back this year on September 16–18 with Abul Mogard, Ipek Gorgun, Anna von Hausswolff, Claire M Singer and Cabaret Voltaire's Chris Watson.
"The idea of Organ Reframed dates back to 2006 when I was commissioned to write my first organ piece. At the time I was mostly composing in the studio and was struck by the vast breadth of the instrument and how capable it was of creating timbres that were similar to what I was working with electronically. The lush acoustic quality of the sound resonating in the space was incredible and the sonic possibilities seemed endless. I felt so fortunate to have had the time to experiment and explore the instrument and realised perhaps the reason there wasn't a huge amount of experimental works being written for organ was because they are mainly housed in churches and concert halls so you really need to know someone with a key. From that point on I started composing almost exclusively for organ and since launching Organ Reframed in 2016 I am now able to give fellow artists the opportunity to explore what an incredible instrument it is."
– Claire M Singer.
Union Chapel's 1877 organ built by master organ builder Father Henry Willis is known to be on of the finest in the world. It is one of very few organs left in UK with a fully working hydraulics (water powered) which can be used an alternative to the electric blowing system. The organ is completely hidden from the listeners allowing to focus solely on the music.