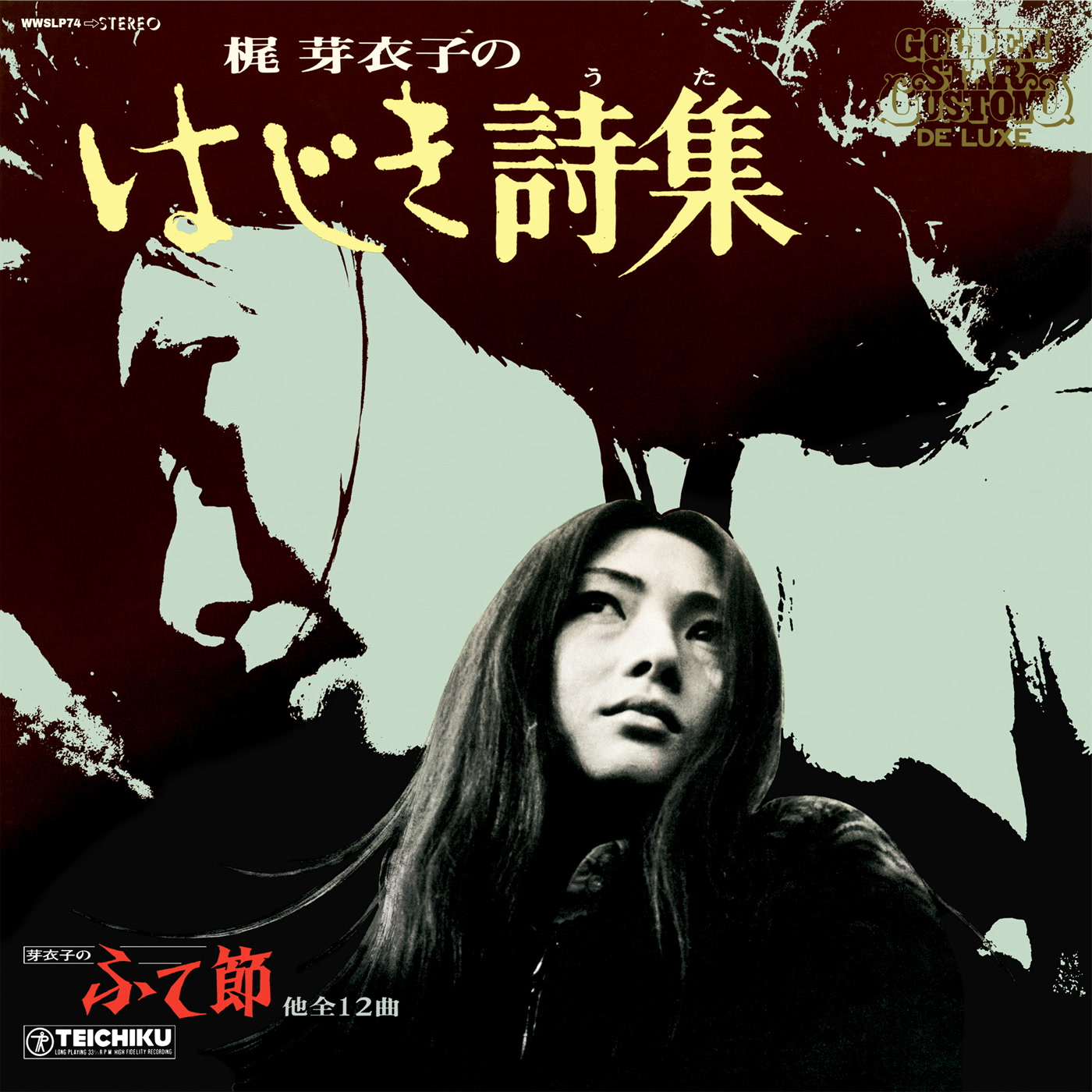 A cult icon on the international film scene, Japanese actress Meiko Kaji, born in Tokyo, has been put into the spotlight internationally by Quentin Tarantino when he heavily based his Kill Bill film on the 1973 revenge genre film 'Lady Snowblood,' one of Kaji's most famous films. By the time she appeared in it, she had already made almost fifty feature films (she began her career in 1965) among which the cult 'Stray Cat Rock' and 'Female Prisoner Scorpion' film series and she was one of the most famous exploitation actresses in Japan doubling as a sex symbol. This gave the studios the idea of getting her to start a singing career and release music closely associated with the films she starred in often singing the theme songs. Thus she began releasing records at the dawn of the 70s, recording several 7″ singles and five albums for Teichiku which have become sought-after and almost as cult as her films.
Drawing on her film roles, the music on these albums were an uber-cool mix of kayokyoku (Japanese Pop), traditional Enka Music, Acid Folk and Funky beats arranged by the best producers of the time in a cinematic way that could sound like Ennio Morricone or Jean-Claude Vannier. that explosive cocktail is featured in full blow on the first album from the Meiko Kaji reissue program, 'Hajiki Uta' released by Teichiku in 1973.
The album featured two film songs, namely 'Urami Bushi' used for the film series "Female Prisoner Scorpion" and 'Onna No Jumon' featured in the film 'Female Prisoner Scorpion – Jailhouse 41,' which have been composed by Shunsuke Kikuchi who also composed the score for these films. At first Kaji was unsure of her singing talents as told to Hashim Bharoocha in an interview but she quickly rose to the challenge: "I told Shunsuke Kikuchi that I couldn't imagine myself singing the songs. He said I could ignore the melody that he wrote, and just sing it the way I wanted to. That really lifted the pressure off my shoulders, and I decided to sing the song as the character in the film. The director was also happy with that idea."
The rest of the album follows the same pattern with atmospheric songs such as "Onna Hagure Uta" or "Onna Somuki Uta" displaying Meiko's sombre singing over a superb slow-burning groove, which precedes the funkier "Hitori Kaze" featuring a wah wah guitar, a breakbeat-like rhythm section and slick string arrangement, shaping the unique Meiko Kaji signature sound.
Wewantsounds is delighted to reissue "Hajiki Uta" and the rest of Meiko Kaji superb early 70s albums for the first time in fifty years in their glorious original Japanese artwork, with remastered audio, cementing further the actress' reputation as a true international pop culture icon.